GnomeWood REALLY is a Mellow Camp!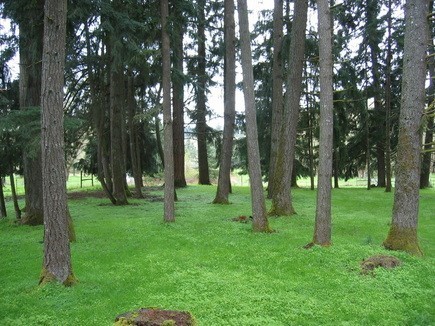 In order to ensure the peaceful nature of your camping experience, GnomeWood will not be appropriate for people who want to be loud late into the night. We won't be having amplified music at all, and no drumming after 10 p.m. We love acoustic music and encourage everyone to bring instruments to play around the campfire. Out of consideration for everyone, we will ask that people respect a quiet time starting at midnight (10:30 for kids), so that those who want to sleep may do so.​
GnomeWood is located 300 steps (about 900 feet) west of Bus Road, the main entrance-way to the Fair for cars and pedestrians. From Bus Road you will be walking on Fair property for one-half mile to the admissions booth. At an average pace it takes 15 minutes for your complete walk to the admissions booth of the Fair.
We look forward to having YOUR family at GnomeWood.
Other Rules, for Everyone's Safety and Comfort:
No Amplified Music or Sound of any kind

No smoking in campsites - there will be one designated smoking area at the front of the property

No Pets of Any Kind

No Visitors; everyone must have a GnomeWood wristband to be on site

No Weapons - this includes toy weapons of any kind

No Fires, No charcoal grills. Camp stoves that turn off ARE allowed

No Fireworks

Gates are closed to vehicle traffic between dusk and dawn